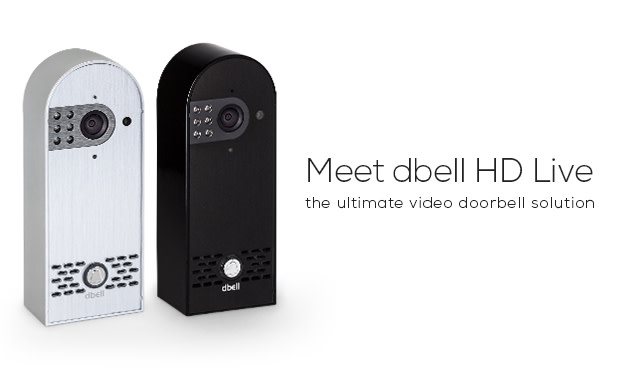 – Introducing –
dbell HD Live Video Doorbell
dbell HD live video doorbell is your extra eye on the door. With dbell, you're always connected with your home and visitors.
This device contains a 160° wide angle HD video camera with Mic and multiple sensors to help keep you, your family, and your home safe.
The ultimate video doorbell solution.
dbell HD live video doorbell combines the most desired features of a video doorbell and a home security systems. It instantly alerts you when the doorbell is rung or when motion or sound is detected.
dbell HD live video doorbell enables you to see and interact with visitors from anywhere. It is the only video doorbell that puts you in control with the ability to schedule recording, save footage to your NVR, HDD and view your property on demand at any time without a smartphone. There are no monthly fees to view your own footage!
Media Coverage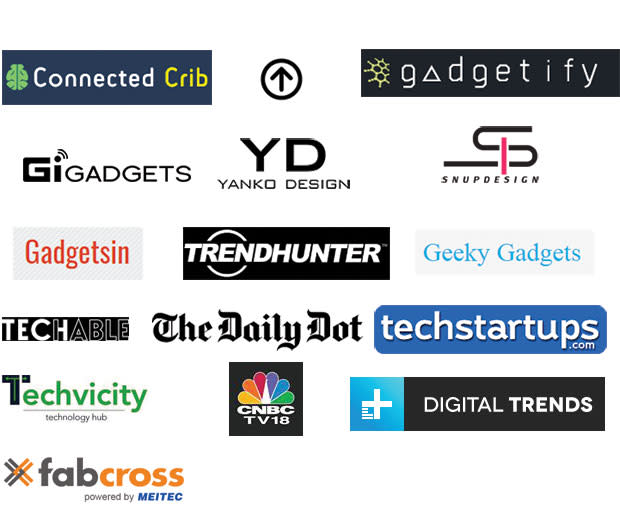 Connected Crib: dbell HD Live Video Doorbell
Up Wire: Ding, Dong! Dbell HD Live is the Smartest Doorbell Camera
Gadgetify: dbell HD Live: Smart Video Door Bell System
GiGADGETS: dbell live: Smartest Video Doorbell & Security Cam
YANKO DESIGN: Answer your doorbell from anywhere
SNUPDESIGN: dbell live: Smartest Video Doorbell & Security Cam
Gadgetsin: dbell HD Live Video Smart Doorbell with Security Camera
TRENDHUNTER: HD Live-Streaming Doorbells
Geeky Gadgets: dbell Live Smart Doorbell Now $129 Via Indiegogo (video)
TECHABLE: 【目標金額の4倍突破】ホームセキュリティ対策に!HDライブカメラの最新式ドアベル いつでもどこでもスマホからモニター&応答可能
techstartups.com: dbell live: Smart video doorbell
The Daily Dot: This little gadget turns your doorbell into a home security system
fabcross: どこからでも玄関先をモニタリングできる——スマートドアベル「dbell live」
Techvicity: dbell HD Live: A Smart Doorbell and Security Camera
CNBC-TV18: Check out who's ringing your doorbell even when you are not home!
DIGITAL TRENDS : Keep an eye on the front door no matter where you go with dbell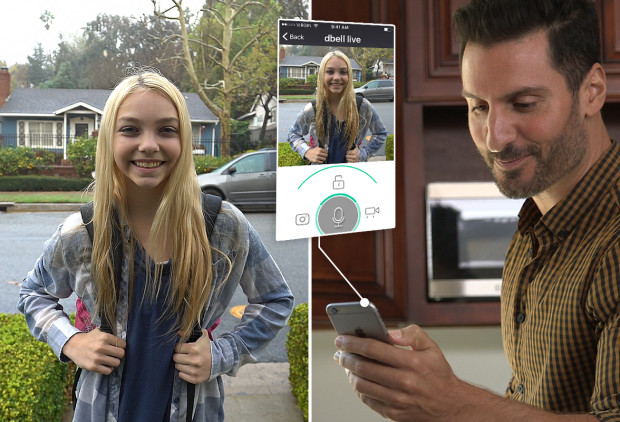 The dbell™ team have decades of experience designing, engineering, installing and servicing Custom Home Automation Systems. dbell™ HD Live was created out of their desire to make a high quality home security solution that was accessible and affordable for everyone. They have successfully realized this desire with a convenient and affordable solution that enables you to protect your family and your property.
Easy Setup
dbell™ HD Live Early Bird Package Unboxing

Features



Bring High Technology Home
See Visitors in HD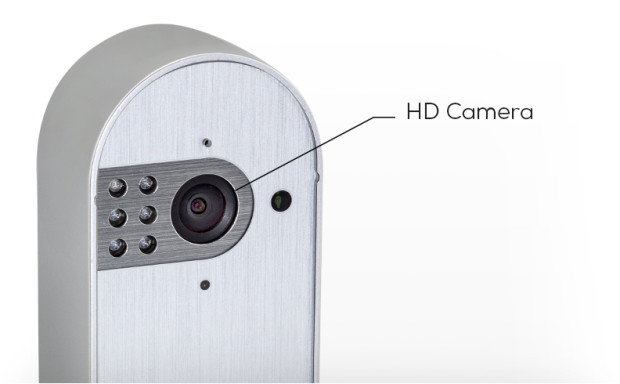 With a wide angle view, crisp clear image, dbell is your sentry at the door.
Motion and Audio Sensors
With dbell you are in control of your security experience.
Interact with visitors or intruders instantly – dbell is your extra eye on the door, with dbell, you're always connected with your home and visitors.
Check in and view your property.
You choose whether you wish to view on your smartphone, tablet, PC program, Browsers or all four simultaneously.
Stay Safe From Unwanted Visitors
At complete darkness dbell HD live night vision can see up to 15′ ft away.

Now you'll know where that dent in your package came from

Anywhere, Anytime
Instant Alerts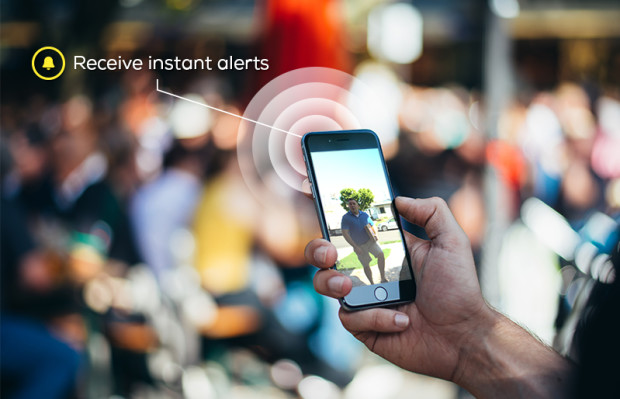 When a visitor arrives you will be alerted instantly if your motion alarm is on via i) the dbell™ app on your smartphone and tablet ii) a snapshot taken by dbell™ is saved on your smartphone or tablet's visitors log with date/time stamp iii) an email with visitor's photo iv) a 30 second recording clip of the visitors. If there is someone outside your door you will know about it, regardless of whether they want you to or not.
Access From Any Device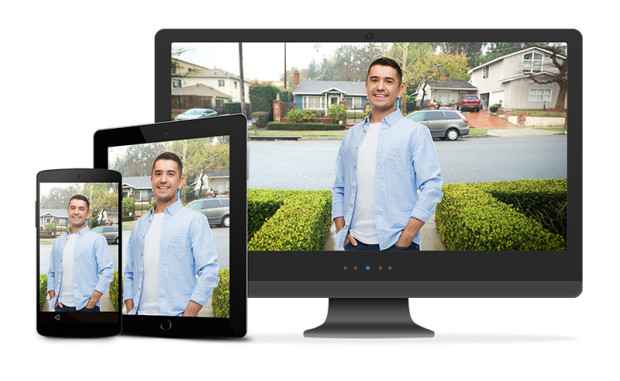 dbell™ HD live puts you in control with the freedom to be alerted and to view visitors from multiple smartphones and tablets simultaneously. Your data roaming is off? Not to worry! Seamlessly access live views from PC client or IE®, Firefox® and Chrome® Browsers. Talk to them and record in HD!
View on Demand and Record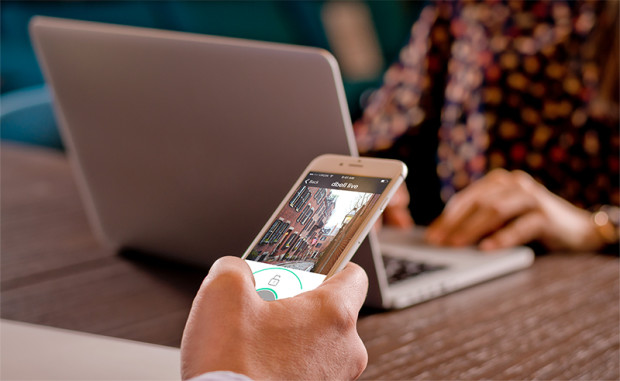 Wondering what is going on outside your home or business? View your property on-demand and record and store the footage at no additional charge.
Speak With Visitors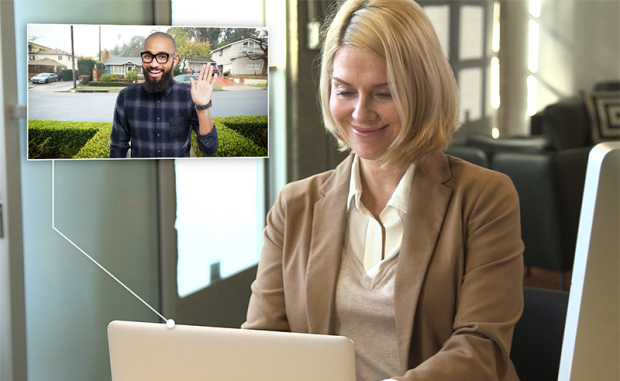 You can speak to visitors from wherever you are. At work when the delivery person arrives with an important package? Talk to them about where to leave it.
See someone suspicious outside? Let them know that police are on the way.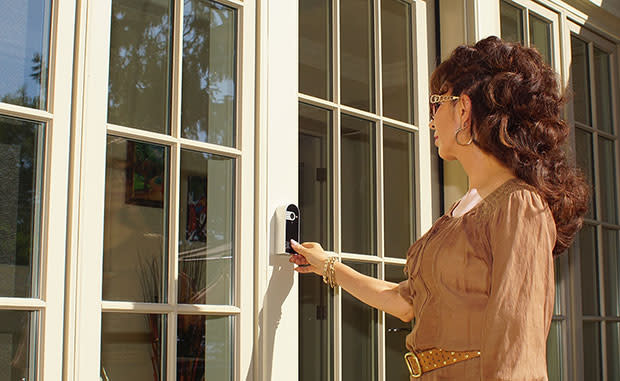 Security Integration
Easy Integration with Leading Security Systems
and Smart Home Automation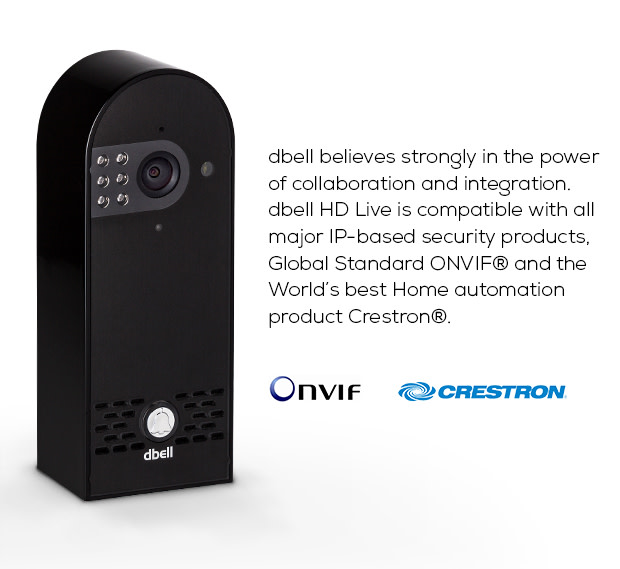 Extras
dbell™ WiFi Extender/Repeater Indoorbell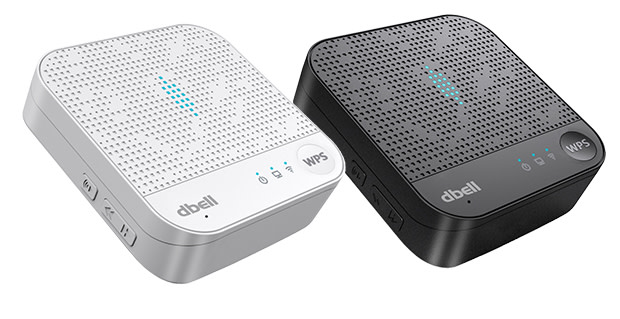 dbell Wi-Fi Extender Indoor bell with volume control and ringtone selection. Output Power (Max): 50mW(17dBm), Receiver Sensitivity (Max): -96dBm
Frequency: 2.4GHz
dbell™ Wireless Premium Indoor bell
dbell™ Wireless Push Button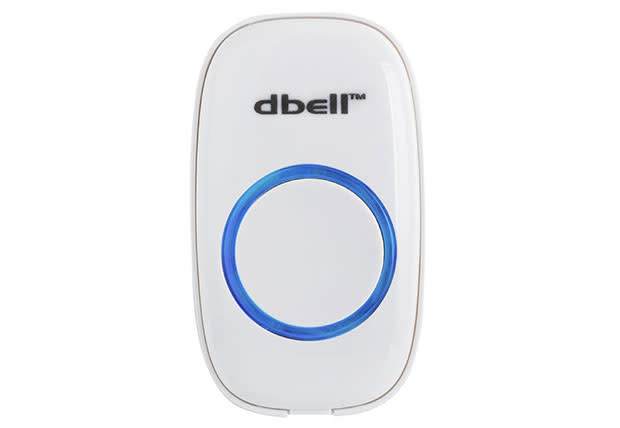 dbell™ Wireless Push Button can be installed on the back door, side door or any other door you may have where a video doorbell may not be necessary. It works with the dbell™ indoor bell. It comes with 2 sided 3-M adhesive outdoor rated tape and screw option. It is battery powered and comes with battery.

Perks


Easy Install
dbell HD live – Onetouch app setup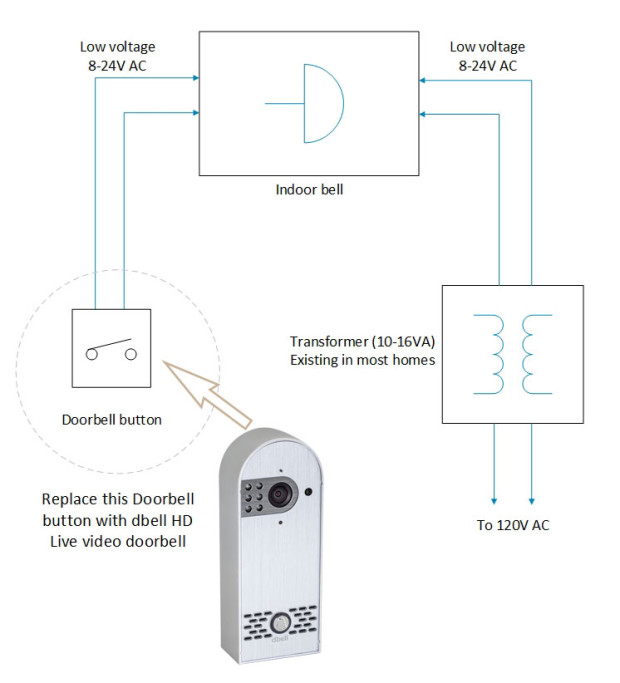 How dbell™ HD Live replaces existing doorbell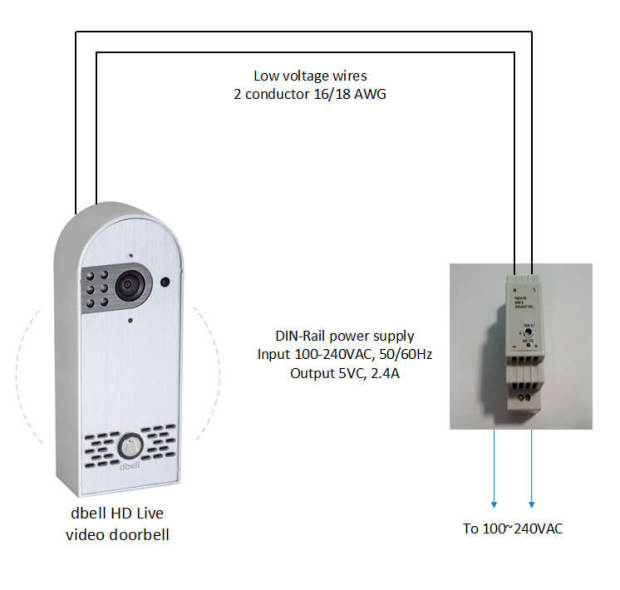 How dbell™ HD Live connects without existing doorbell

Technical Specifications
Technical Details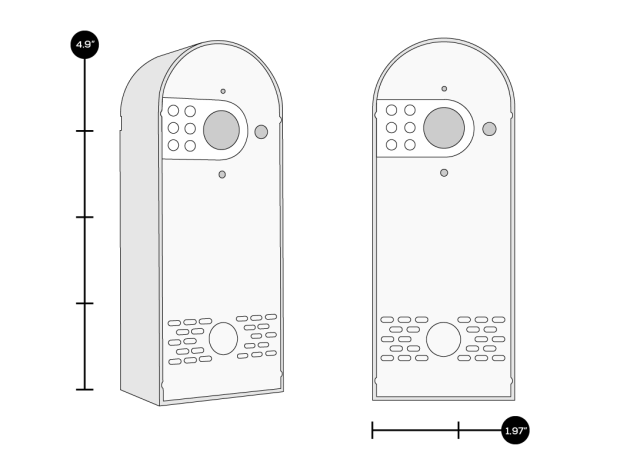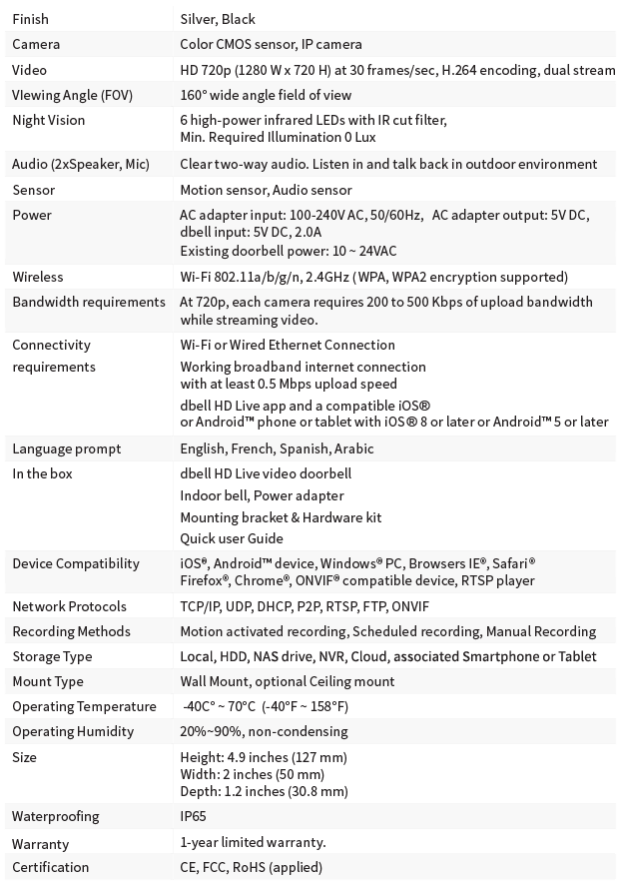 Camera Viewing Angle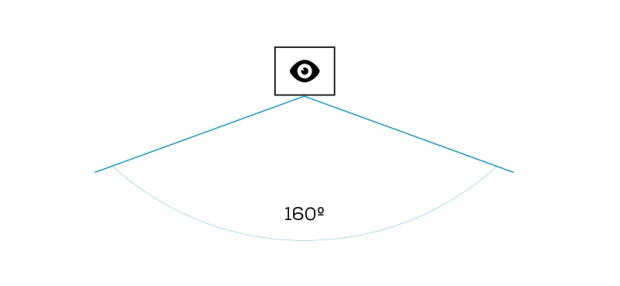 The HD Camera with 160° wide angle with night vision gives you a crystal clear view of your visitors on your smartphone, tablet, or PC 24/7.
Easy Ethernet Installation

Easy WiFi Installation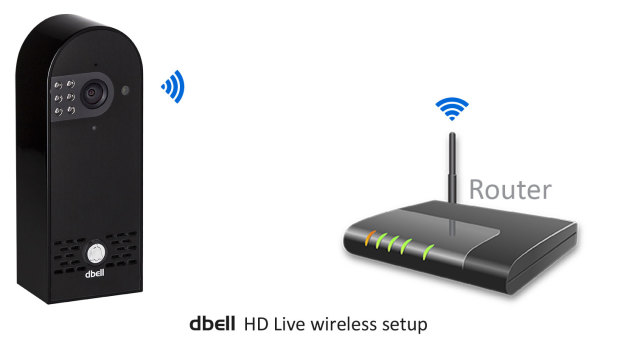 Specification Comparison on April 1st 2017

Disclaimer: All brand names, product names and trademarks are the property of their respective owners. Certain trademarks, registered trademarks, and trade names may be used to refer to either the entities claiming the marks and names or their products. dbell disclaims any proprietary interest in the marks and names of others. dbell is not responsible for errors in typography or specifications change. Comparison was done based on publicly available data from respective websites. Part of the comparison was taken from publicly available 3rd party website. dbell disclaims any liability in the accuracy of the specifications of others which are publicly available on their website at the time of this comparison done in January 3rd, 2017


The Making of dbell™ HD Live

dbell HD live PCB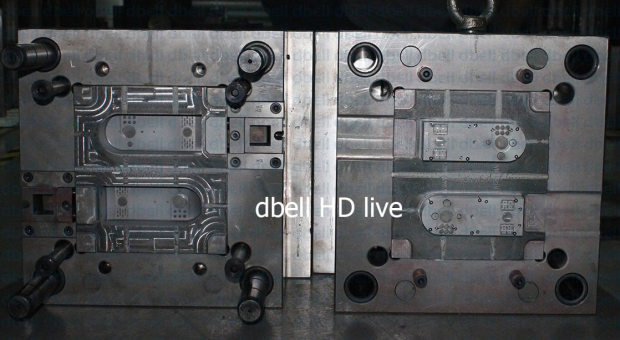 dbell HD Live Tooling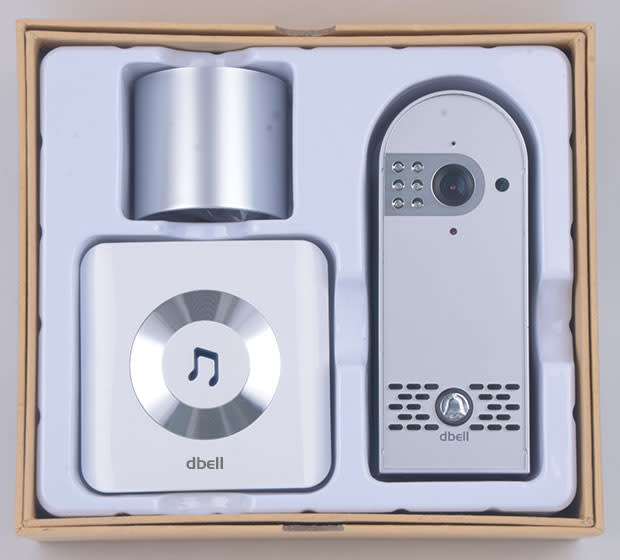 dbell HD live packaging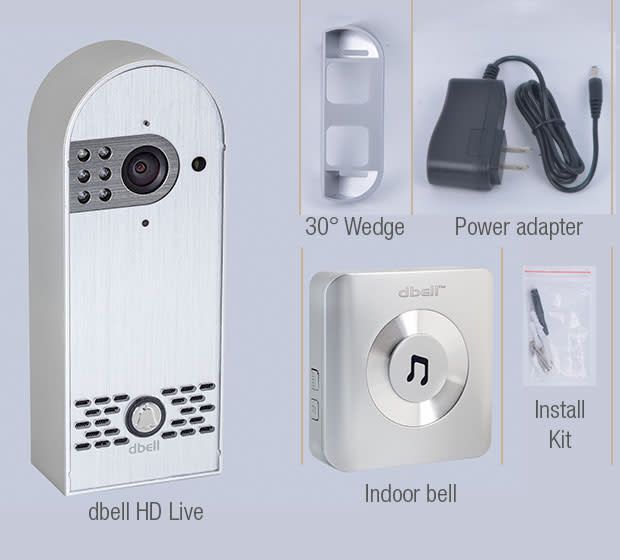 What's in the box


What customers are saying
about our first generation dbell™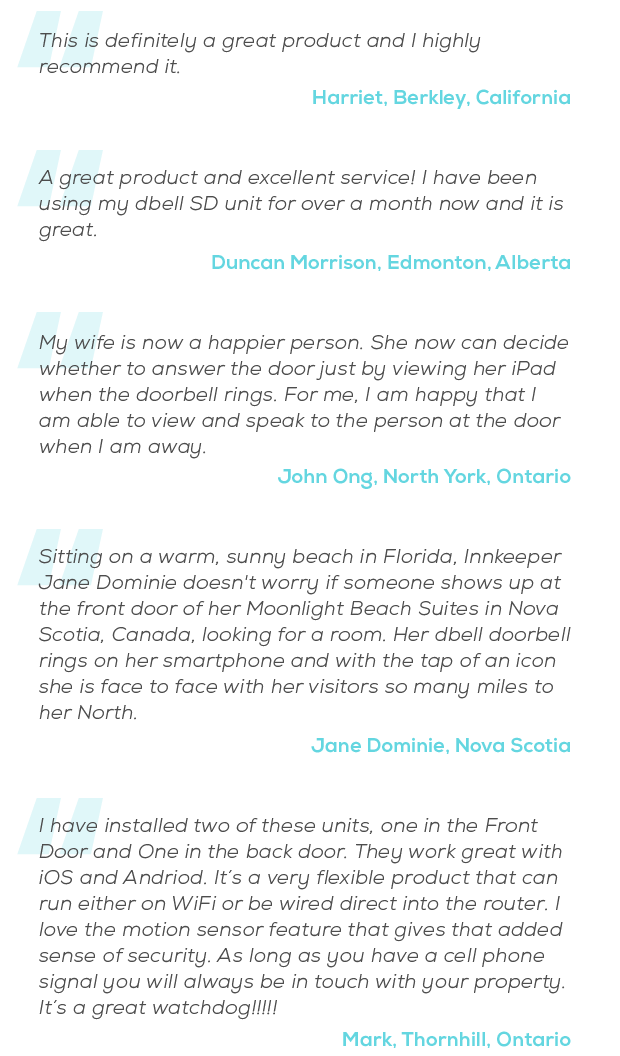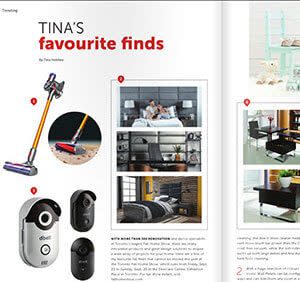 Home and Condo Guide, September Issue, 2016