Why dbell video doorbell?
Save dbell doorbell footage on your Dropbox, OneDrive & iCloud

No monthly Fees for visitor's video history

dbell video doorbell works with Wifi & Ethernet both

dbell video doorbell is Designed for extreme outdoor -40°F

Integrate with home automation products like Domoticz.
Using webhook make your home more smarter.
Trigger lights or whatever you want upon dbell button press.
DIY Doorbell face recognition with ZoneMinder and dbell
Integrate with home automation products like Domoticz.
Using webhook make your home more smarter.
Trigger lights or whatever you want upon dbell button press.
Email alert on intruder detection
Wi-Fi & Ethernet connection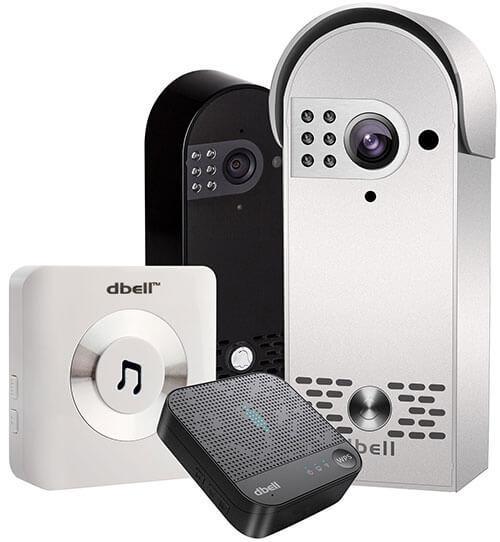 Why dbell HD live?
dbell is not just a typical video doorbell. We all know home security starts from the door. dbell is your sentry at the door.
Take a Tour
Comparisons to our competitors
Compare us with the rest of the competitive doorbell. If you are not happy with what we have to offer, we salute your judgement and thank you for giving us a chance.
Comparisons…
Free Shipping
Free shipping on regular priced products within Canada. International shipping charges apply.
Easy Return
No Hassle Return. Just email us for the return authorization. dbell will accept returns within 30 days from the date of receipt.
Canadian
Designed and engineered in Canada.
No Monthly Fees
No contracts to sign. There are No monthly fees. Once you have your dbell, you are all set.
Satisfaction guaranteed
Satisfaction guaranteed. If you are not satisfied, return within 30 days to get your refund. Conditions apply.
Affordable
dbell is affordable. Try dbell and any other competitive doorbell. If you are not 100% satisfied with dbell, contact us for the refund and your free gift.
Your Smart Home starts with the Doorbell
Say HELLO to the smartest doorbell you'll ever own. The new digital video doorbell by dbell answers the age old question, "Who's there?" in a whole new way. Equipped with a camera, microphone, speaker, motion sensor, night vision and wired or wireless networking, there's not a lot this doorbell can't do, no matter where you happen to be.
Feeling Safer
Security was uppermost in Harriett's mind when she chose the dbell. Her California neighborhood had been suffering a series of break-ins, and people were becoming concerned about their safety. After opening her door late one night to a stranger, without even thinking, she decided it was time to bolster her security.
More and more often new home builders are being tasked with incorporating the most cutting edge new technologies their customers are looking for and expect. ..
Read More →
dbell for Businesses
Sitting on a warm, sunny beach in Florida, Innkeeper Jane Dominie doesn't worry if someone shows up at the front door of her Moonlight Beach Suites in Nova Scotia, Canada, looking for a room. Her doorbell rings on her smartphone, and with the tap of an icon, she is face to face with her visitor so many miles to her north. Not only can she see them, she can talk to them, too, and they to her.
Take a Tour
Features of dbell
Incredible convenience
dbell Wi-Fi smart video doorbell provides comfort and incredible convenience for everyone – Home and Business Owner and Visitors. Granting Security1 at your doorsteps and freedom at your fingertips!
Take a Tour
dbell – a must have for the modern home
Receive an alert when the kids get home or the cleaning crew has arrived. Be safe knowing who is on the other side before opening the door.
"My husband ploughs all hours of the night so I am alone a lot. I can't get downstairs quickly, so this will be a lifesaver" – Jen from Toronto explains
Take a Tour
What our clients say
This is definitely a great product and I highly recommend it. I do love gadgets, and this is a great one, especially for a woman living alone. I don't like to come to the door when I don't know who is there. Usually it is a neighbor, but once recently I opened the door to a scary stranger (stupid me). My boyfriend was in the house and called the police! With this video bell, I don't even have to come near the door to find out who is there. Also, if I don't hear the doorbell in the back of the house, my phone will ring and alert me. A great bonus! I had a few setup problems, but the tech support could not have been better. When the voltage was insufficient from my existing doorbell, he showed me how to rewire it to increase the power. It worked! Then I had a software glitch on my Android 4.4. Their programmer fixed it the next day and sent me a new version of the app that worked great. This is definitely a great product and I highly recommend it.
- Harriet, Berkeley, California
A GREAT PRODUCT and EXCELLENT SERVICE !!!I have been using my dBell unit for over a month now, and it is GREAT. More importantly, the service that I received from dBell Team has been absolutely EXCELLENT!. The patience that they had for me should go into the record books. Thank you so much for an AWESOME PRODUCT and the UNBELIEVABLE SERVICE!!! I would recommend this product, and this company, without any reservations at all!!
- Duncan Morrison, Edmonton, Alberta
My wife is now a happier person. She now can decide whether to answer the door just by viewing her Ipad when the doorbell rings. For me, I am happy that I am able to view and speak to the person at the door when I am away. Very cool. Among other great product properties of dbell, I like the Camera's wide angle the most. I got my son (6 feet tall) to test the door bell, we have a clear view of him from the head down to almost the waist. I can see when the postman delivers when I am away at the office or away on holidays. Another good thing is that I can also if the mails do pile up and get the neighbor to keep them safely till I return. Customer service is reliable. I need not say much, but I will certainly recommend dbell to anyone looking to purchase this product.
- John Ong, York, Ontario
I cannot recommend this company and product highly enough! My wife just gave birth to our second child and is now at home with my newborn and 2 year old full-time. I wanted a way for her to be able to securely view people coming to the door without having to approach the door or open it. After researching a number of similar products on the market, I decided the dbell fit the bill perfectly since it had the features I wanted at a lower price than the other products. After getting it installed, I was happy that it lived up to my rather high expectations. The installation was simple, the quality of the image from the camera is excellent and I now feel at ease knowing my family is well protected in our home. I would highly recommend this product to anyone else in a similar situation or for anyone looking for some added security at home. Thanks dbell!
- Steve, Toronto, Ontario
I recently purchased a dbell from Best Buy, my wife has been asking me to source a video door bell for some time. dbell online price is good and was impressed not only by the price but it's features. I have to say that so far the dbell has lived up to everything that it professes to do. I did have to speak with customer service in order to complete the wi-fi set up, they talked me through the entire set up and it works great on both our iPhone and Android. I understand that dbell is a new start up and I wish them all the success, great product and great customer service.
- Mark, Thornhill, Ontario
I have installed two of these units, one in the Front Door and One in the back door. They work great with iOS and Andriod. It's a very flexible product that can run either on WiFi or be wired direct into the router. I love the motion sensor feature that gives that added sense of security. As long as you have a cell phone signal you will always be in touch with your property. It's a great watchdog!!!!!
- David, Burlington, Ontario
Source: Statistics Canada, 252-0051
2200806
Property crimes in Canada/yr
Statistics Canada, 252-0051
2185
Avg. burglary $$ loss
FBI 2014, Crime in the United States
8277829
Property crimes in USA/yr
FBI 2014, Crime in the United States
Still not convinced? We've got plenty more features lined up for you